Residence Appartamenti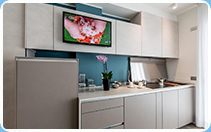 During the summer, Jolly Roger offers to the thousend of tourists in Jesolo, Cavallino and Bibione an exciting adventure for hour and a half hour, reenacting the legendary pirates and their voyages!
A fun and exciting trip along the coast!

The trips start directly from the Jesolo Lido beaches. You can also purchase our gadgets on board the Jolly Roger galleons: swords, pistols, hooks, t-shirts, Jolly Roger bandanas, pirate patches, necklaces and original souvenir photos or you can order cold drinks from our galley and enjoy the captainís welcome cocktail. Tickets can be purchased on board.